Doing business in the digital age means your business requires an online presence. There are multiple ways to take your company online; one of the best is having your own website. A professional online presence makes it easier for customers to find your products and services.
When designing a business website, you need to focus on the user experience, ensuring the site meets the needs and expectations of your site visitors and customers. That means having a website that your customers and visitors can understand in their own language. Offering site visitors and customers this level of care makes your website and its content more valuable to a global audience.
What is the Purpose of a WordPress Multilingual Plugin?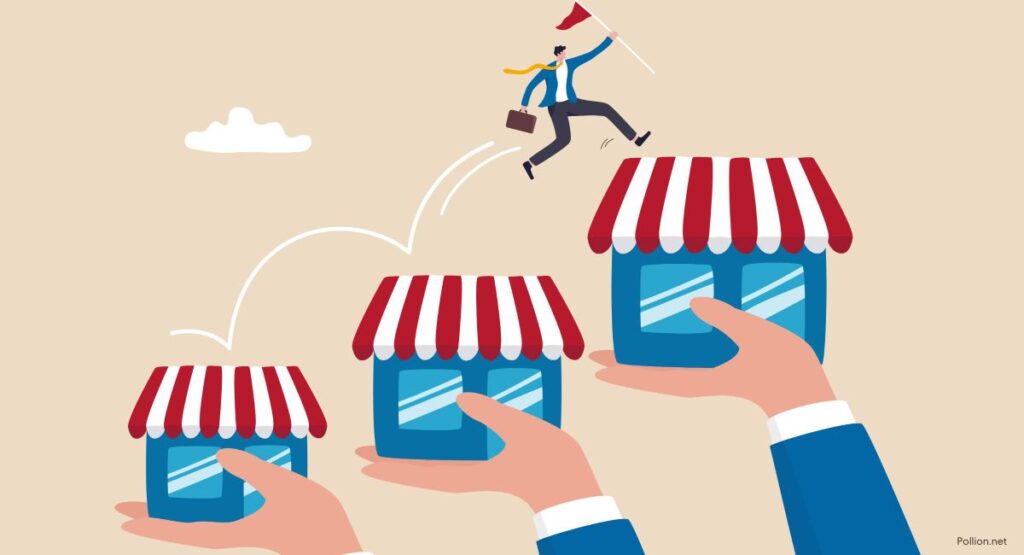 Translating your entire website can be expensive and require a professional translator or translation company. Some SMBs may have a tight budget that cannot stretch to cover this expense. However, there is another option to consider—a WordPress multilingual plugin.
A WordPress multilingual plugin aims to ensure that your website content reaches your target audience in their language. Most of your site content may be written in your native language. But if you want to reach your target audience in their mother tongue, it's necessary to have your website content translated.
With a WordPress multilingual plugin, your website content will be accessible to a more diverse audience than ever before. The plugins also allow you to manage the content across multiple languages so that you can reach a broad range of audiences worldwide.
You'll find some translation plugins are free, while others require a fee. However, the good news is that there's a wide range of plugins available to choose from, so you're sure to find one that works best for your business website.
What to Look for in a WordPress Multilingual Plugin? 
There are two types of multilingual WordPress plugins to choose from, but how do you know which is best for your website?
Before we review some of the features to consider in a multilingual plugin, it's essential to understand that there are two types of plugins available:
Manual translation: these plugins allow users to view the languages that your business has created manually. While this can be a good choice, it does slow down the page speed for site visitors. Your translations, however, may be more accurate and customized to your audience with manual translation.
Auto translation: these plugins automatically translate the content on your site into the user's preferred language. It's good to keep in mind that these translations may not be as accurate, but the page loads are faster for your site users.
You'll need to determine whether to provide your site users with content that's been manually translated or auto-translated.
Control of Your Translations
Next, it's important to consider the control of your translations:
Where are the translations stores?
What happens if you stop paying for the service?
The best option is to keep translations locally on your website's server. Then, you'll have control over your translated content. In addition, you won't have to worry about what happens to the translations if you stop paying for the service.
It's crucial to avoid plugins that require you to keep paying for a subscription to keep the translations on your site functioning correctly.
Compatibility
Multilingual plugins improve your website's user experience, but only if the plugin works with your specific WordPress theme. The key is to choose a plugin that works with your theme and other plugins that are already in use.
When you choose a compatible a WordPress multilingual plugin, you'll have seamless integration and improve your site visitor's experience with the website.
Customizability
You'll also find multilingual plugins that offer customization options to suit specific requirements. For instance, customizable multilingual plugins may allow you to manage language-specific menus, widgets, theme elements, and more.
Customizable plugins make personalizing the site and language settings easier for site visitors and users.
Support & Updates
There's one last note to remember when choosing the right plugin for your website. As you search for the right language plugin for your website, consider the quality of the support offered and whether updates are provided regularly.
Choose developers who offer plugins that ensure ongoing compatibility and performance improvements; otherwise, your website cannot provide users with their own language support.
Best WordPress Multilingual Plugin
When it comes to content management systems, WordPress is one of the most popular in the world. However, if you create content in one language, it's more challenging to reach a broader audience. You can get around this problem by using a WordPress multilingual plugin.
Here's a list of multilingual WordPress plugins you may want to consider for your business website.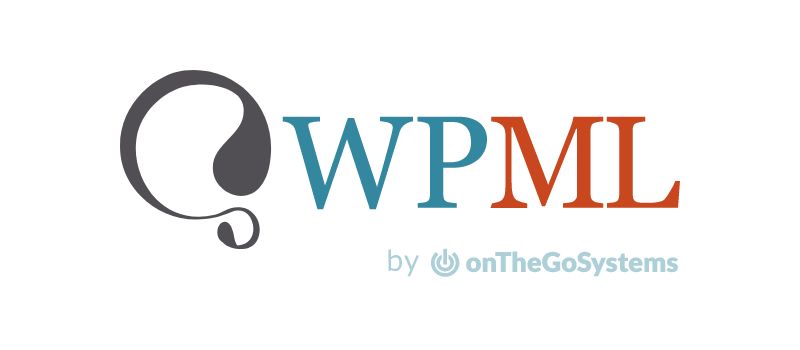 Price: Offers tiered plans starting at $39/year
WPML is a popular multilingual plugin used on over one million websites worldwide. The plugin allows you to translate 65 languages without any programming needed. One of the things that makes this plugin so popular is that it offers a complete solution for translating your site.
With the WPML plugin, you control the translation instead of the site visitor's machine. This plug is an excellent app if your business has a solid international presence. With this app, you'll have more than a simple, auto-generated translation for site users. The result is that site visitors will have a much better user experience in their own language.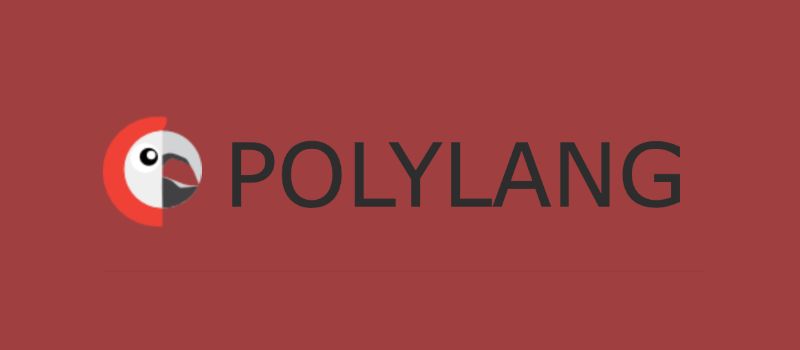 Price: Free
The next WordPress multilingual plugin on our list is Polylang. This free WordPress plugin offers self-translation, so you can choose the language(s) used to translate your site. You simply download the correct language pack and start using the plugin. Once installed, the plugin places a widget in the navigation menu, which allows you to switch between languages. Polylang also offers the ability to separate languages into specific subdomains for each language.
The plugin is open-source and supports a wide range of languages. It also supports custom taxonomies, sticky posts, and RSS feeds.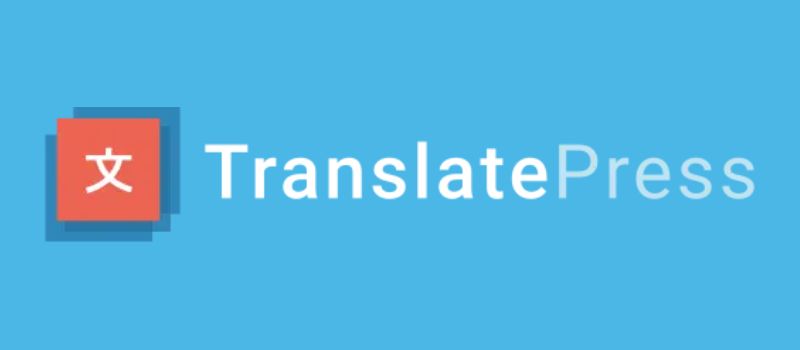 Price: different tiered pricing plans that start at $96 a year
TranslatePress is another popular WordPress multilingual plugin you may want to consider for your company website. This plugin displays translations in real time and offers support for manual and automatic translations. TranslatePress is compatible with the following:
Gutenberg blocks
Shortcodes
WooCommerce
And other themes
The plugin also makes it possible to translate metadata with its SEO pack, add language switchers with shortcodes, and translate dynamic gettext added by WordPress and other plugins and themes used on your website.
The plugin makes it easy to translate the entire page right away, and your translations stay with you. They're not stored off-site, moved, or deleted.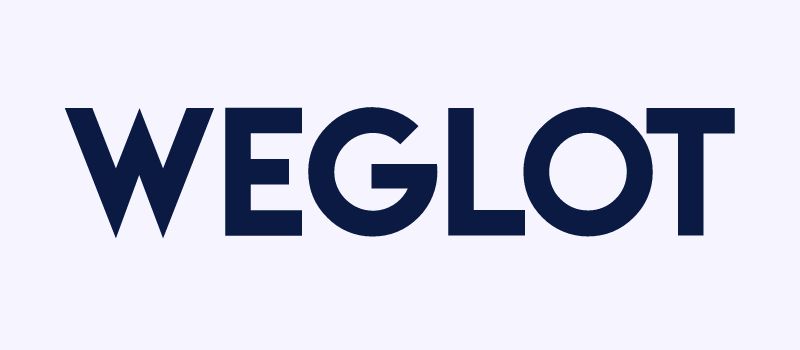 Price: Starts at €15 a month
Weglot is a popular WordPress multilingual plugin that can help translate your company's website. It offers support for over 100 languages.
This plugin is a little different. Rather than each translation taking up space on the server, the plugin translates the content automatically. So the plugin translates it all no matter where the content is located, even on third-party websites. For this reason, there's no need to create duplicate websites for each language.
The Weglot plugin also allows you to create guidelines for what the translation should look like. It can be set to fast translations using services such as Google Translate, DeepL, and Yandex that translate your site automatically. However, you can also use manual translation for specific languages. Weglot gives you full control over how your website is translated. 
Related Post : How to Avoid Global Marketing Localization Fails
Benefits of Using a WordPress Multilingual Plugin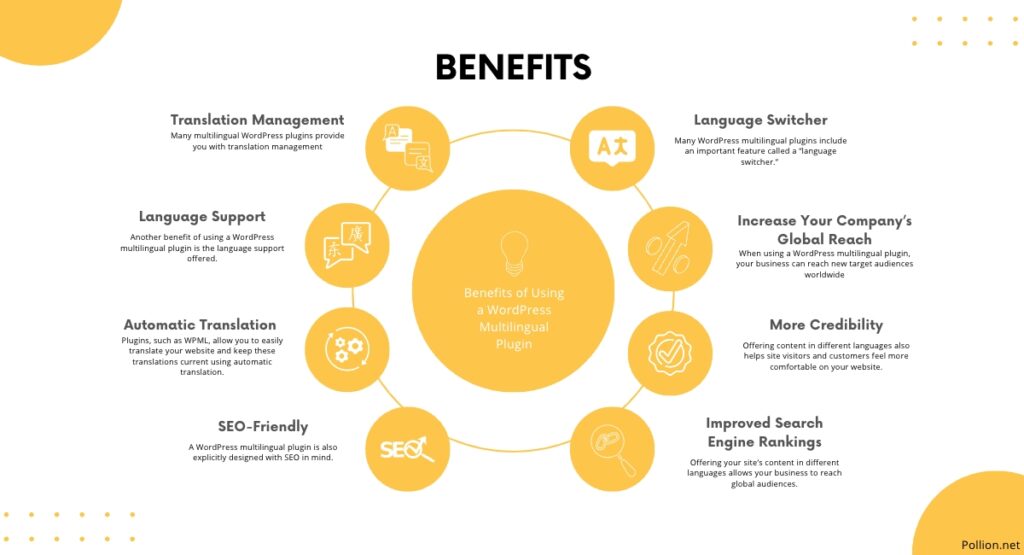 Your business can experience many of the benefits offered by a multilingual WordPress plugin.
Translation Management
Many multilingual WordPress plugins provide you with translation management. That means the plugin allows you to automatically set up the languages you want to target, choose the content to be translated (or choose to translate the entire site), and more.
In other words, you have more control over which content to translate yourself or allow the plugin to translate.
Language Support
Another benefit of using a WordPress multilingual plugin is the language support offered. Many of these plugins support a wide range of languages. For instance, Weglot offers support for over 100 languages.
By choosing a plugin that supports a high number of languages, your business has the capability of reaching out to even more markets. You can reach a higher number of people rather than focusing on one or two languages for your website.
Automatic Translation 
Plugins, such as WPML, allow you to easily translate your website and keep these translations current using automatic translation. It's possible to use this feature on the entire website or individually translate pages, blog posts, and other content.
Automatic translation is a cost-effective solution for your business, and it ensures all content (or individual pieces of content) are translated and current.
SEO-Friendly
A WordPress multilingual plugin is also explicitly designed with SEO in mind. The plugins can help your company website rank higher in search engine results in different languages.
In addition, SEO can also bring more traffic to your site in a wide range of languages.
Language Switcher
Many WordPress multilingual plugins include an important feature called a "language switcher." This feature allows site users to change the website's language. For example, the plugin may create a button on a webpage that site visitors can click to change the language on the page.
The language switcher creates a better user experience and improves the company's credibility and trust.
Increase Your Company's Global Reach
When using a WordPress multilingual plugin, your business can reach new target audiences worldwide. The result is an increase in the number of site visitors and customers.
More Credibility
Offering content in different languages also helps site visitors and customers feel more comfortable on your website. Your business then seems more professional and credible.
Improved Search Engine Rankings
Offering your site's content in different languages allows your business to reach global audiences. You may find that your website enjoys improved search engine ranking, which can also improve the number of site visitors and customers.
Increase Customer Loyalty
Customers have a better user experience when your site's content is in their language. As a result, your company has the opportunity to build better relationships with customers and increase brand loyalty at the same time.
These are only a few of the many benefits your business can experience by using a WordPress multilingual plugin. The overall effect is the ability to offer your customers and site visitors a customized experience in their own language. Customers and site visitors feel they are cared for and can trust your company when they can read your site content in their own language. Your business can then grow as a result of reaching new target audiences in their own language.
Concluding Thoughts
Adding a WordPress multilingual plugin to your site brings many benefits. Not only does your business have the ability to reach a global audience, but doing so in their own language creates trust and credibility with new audiences.
The key is choosing a multilingual WordPress plugin compatible with your theme and other plugins. Find a plugin that offers ongoing updates and support to ensure your website provides the best user experience now and in the future.