SEO (Search Engine Optimization) is the method that helps your online content reach customers through search engines, such as Google. SEO continues to be an essential key to an organization's success. But what methods are needed to help your company reach worldwide markets?
Does your business want to reach global markets with products and services? If so, you'll need to learn about multilingual SEO. Through the implementation of multilingual SEO, it's possible to reach out to the right audiences with a global SEO strategy.
What is Multilingual SEO?
Multilingual SEO is the method used to incorporate localized keywords and keyword phrases into translated content. The purpose of multilingual SEO is to reach users in their native language. But why is this process important?
First, multilingual SEO makes your site's content easier to find. Your audience also can learn more about the company, what it does, and the products and services it offers. With multilingual SEO, your business stands out over the competition. Using this process also ensures your content is credible and the target audience feels it can trust you and what you offer.
While multilingual SEO is necessary to reach new global audiences, this is a complex method. It is complex and takes time to get it right.
Here's an example of how a website reaches a broader, global audience. Let's take a look at Edgard & Cooper. This company, founded in 2014, sells healthy, great-tasting dog and cat food. Their products are made with all-natural ingredients. The Belgium-based company commits to sourcing its ingredients from sustainable, ethical sources, and donates 1% of all its sales to charity.
The website is colorful, happy, and welcoming; it also has cute images that are sure to attract pet owners.
In the image above, you can see how the company makes the site multilingual. They make it very easy to change the language on the page by clicking on the flag/language in the upper right-hand corner of the webpage.
After changing the language, the customer is taken to a customized home page in their chosen language. The FAQs are easily accessed in the site user's language, too.
Another example of a well-done multilingual website is Nikon. Nikon, a renowned multinational company, originates from Japan and started in 1917. Today, the company operates on a global basis. Nikon's multinational SEO can be found on its global site.
The global site offers views of people using the company's cameras, images of the organization's renewable energy use, and business applications. When you land on this page, the website automatically recognizes your country and offers to take you to their country/region site. You choose the language, too.
Both the Edgard & Cooper and the Nikon global sites make it easy for site visitors and customers to change the sites to their preferred language. This is the only way companies can use multilingual SEO on their websites.
If your business wants to reach new markets, it's necessary to implement multilingual SEO to optimize your website or app for specific target languages. In this way, users will find your business and website through their Google searches, no matter their location or language.
5 Ways Your Business Can Benefit from Multilingual SEO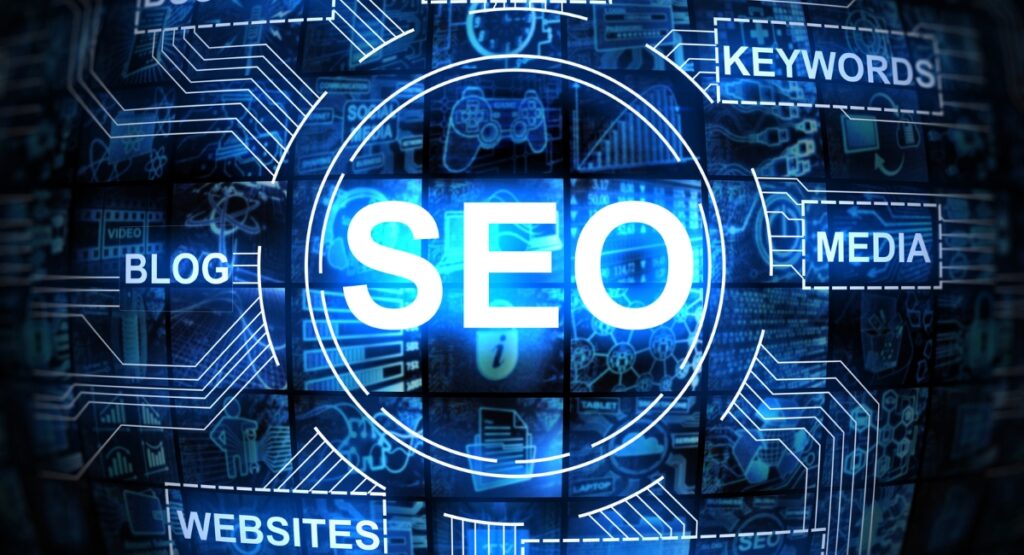 Using multilingual SEO can give your business some clear benefits, including the following:
1. Access to New Markets
With multilingual SEO, your business is no longer tied to a specific country or region of the world. The company now has the ability to reach new audiences and develop as a recognized global brand.
Optimizing your website for a global audience means your organization can now reach more customers and clients.
2. Increased Visibility
Along with becoming a recognized global brand, your business gains increased visibility through multilingual SEO. The company gains by expanding its reach to new target audiences around the globe. Using multilingual SEO also takes website optimization to a new level that allows your organization to earn more revenue and create new relationships with audiences around the world.
Here, the key is to always focus on the target audience, no matter where they are in the world. Of course, this means extra work, but it's well worth the effort to take your products and services to new regions of the world.
3. Better User Experience
SEO is essential for providing site users with an excellent user experience, and this is never more so than using multilingual SEO practices. Multilingual SEO improves the user experience by allowing each person to see your website localized and translated into their language. That provides a comfortable experience and makes it easier for the customer to understand product details, how to manage the shopping cart, and more.
4. Improved Conversion Rates
When site visitors and customers have a more comfortable user experience, they tend to buy more. Customers can read the website content in their native language, making them feel more comfortable. Not only that but when they can read and understand the content, customers feel they can trust your company.
Customers who feel comfortable on the site may linger longer, finding more to buy. The result is that you see improved conversion rates and increased ROI.
5. Enhanced Reputation
All of the previous benefits lead up to an enhanced reputation. Using multilingual SEO, customers find your company more reputable and spread the word about your products and services. Site users have the chance to buy and pay for products/services in their native language. Not only that, but they also feel they can understand what your company stands for and has to offer.
The result is an enhanced global reputation that brings in even more customers and revenue from around the globe.
The Role of Translation in Multilingual SEO
According to W3Techs, about 54% of all websites use the English language for their content. English is one of the most common languages used on the Internet; however, not everyone can speak English. The Internet is almost unusable for a large segment of the world's population.
However, with the Internet becoming more accessible to global audiences, it's now time to invest in multilingual SEO to reach underserved audiences around the world. also If your organization wants to expand its reach, reaching global audiences is necessary. Multilingual SEO is critical to these efforts.
Implementing multilingual SEO means using the services of a reputable translation agency, such as Pollion. Pollion offers a comprehensive translation service alongside marketing services focused on creating high-quality content in a wide range of languages.
Interested in a translation agency prioritizing customer satisfaction? Pollion is the company for you. They regularly work with global brands to cross linguistic and cultural borders through their in-depth attention to detail and getting things done right.
In the following section, we discuss the steps and share tips on how to use multilingual SEO for your company website.
How to Do Multilingual SEO (6 Steps & Tips)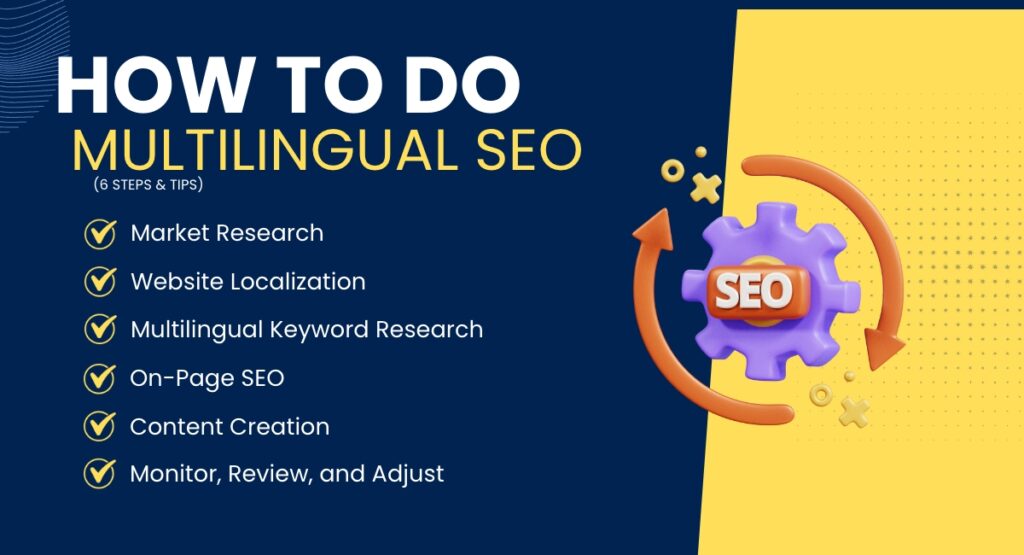 1. Market Research
The first step to doing multilingual SEO is to do your market research. What regions does your business want to target? After this, it's necessary to decide on the specific languages you want to use in those regions.
This step is essential, as it determines the pattern for the rest of your multilingual website project.
2. Website Localization
Here, you'll need to determine the right way to localize the entire website, including the content.
3. Multilingual Keyword Research
Now you're ready to conduct keyword research for your project. This is where a translation agency, such as Pollion, can help determine the best keywords for each language.
It's necessary to use keyword search tools to find the best keywords and keyword phrases for each language you want to target. Remember to check the search volume and other crucial metrics for each keyword/phrase.
4. On-Page SEO
On each page that implements your multilingual SEO strategy, it's essential to stay with one language per page. The reason is that Google determines the page's language by the visible content on the page.
Mixing in more than one language can cause confusion, leading to lower rankings in the SERPs. Having more than one language on the page can also lower the user experience, as the page is too confusing and easily misinterpreted.
So, stay with one language per page and use the right keywords and phrases to reach your target audience.
5. Content Creation
It's not always necessary to create entirely new content. The goal is to ensure that each piece of content has some information that pertains to each specific region/audience you're targeting.
If budget and time allow, you may want to consider increasing content in specific languages that bring more traffic to your website. This can also work to increase visibility, credibility, and conversion rates.
6. Monitor, Review, and Adjust
Once the multilingual SEO project is completed, it's time to monitor the site's performance. Choose a specific time (such as once a week or once a month) to review website user data. Determine whether specific languages or content need to be updated to draw more traffic and more.
Use this information to make the adjustments needed to your website. When this process is done in the right way, you'll see an increase in traffic and revenues.
Conclusion
Multilingual SEO is somewhat new and will continue to evolve over time. While it can be challenging to implement, using these strategies can help your company reach new markets around the world.
If you need assistance developing your business's multilingual SEO strategy, be sure to reach out to a professional translation agency, such as Pollion. They are the language experts who can take your company to new levels and new markets.