LinkedIn is a networking and collaboration platform for working professionals. The site is considered to be the top place for professionals to connect. It's the largest professional network in the world, with over 900 million users worldwide, according to Demand Sage.
Not only that, but LinkedIn is also a site that assists with job searching and creating a multilingual profile in a globalized market.
Why a Multilingual LinkedIn Profile?
Any working professional should consider having a multilingual LinkedIn profile, especially those working in international industries or multilingual environments. Here are some reasons you may want to consider a multilingual LinkedIn profile:
Increase Visibility on the Internet
The more visible your LinkedIn profile is online, the greater the chance your chances are being seen by others in your industry. English is indeed the language most often used on the platform; however, many professionals use their native languages to search. According to Business Standard, about 20% of all searches on the LinkedIn site are done in native languages.
As a result, having a multilingual LinkedIn profile means others can find your profile in your local market or around the world. In addition, by using the keywords for your industry and services, your profile can rise in Google searches and bring more traffic to your profile. That means more potential collaborations and business.
Demonstrate Your Language Proficiency
A multilingual LinkedIn profile also lets visitors see that you can speak multiple languages. When your profile is written correctly in both languages, you show your language proficiency to possible customers, employers, and other businesses who may want to collaborate with you.
Having a multilingual profile and posts demonstrates your professionalism, too.
Creating a Multilingual LinkedIn Profile is Easy & Fast
LinkedIn has made it fast and easy to create a multilingual LinkedIn profile. We'll walk you through the steps later in this article. But rest assured; it's an easy process. LinkedIn supports 26 different languages, making it easy to create a secondary profile in the language of your choice.
Improves Credibility to Target Markets
Another reason to create a multilingual LinkedIn page is to increase visibility. It's also a great way to engender more credibility to your target markets by having a multilingual LinkedIn profile in your target market's language. Not only that, but your target markets will also see you as more trustworthy. This can bring more traffic to your profile and your business.
When creating a multilingual LinkedIn profile, it's essential to ensure that you localize the content for your target audience. In addition, the profile must be grammatically correct; otherwise, it will appear unprofessional, offensive, and more. That may keep customers and other professionals from contacting you on the platform.
If you're unsure how to localize the content and ensure all grammar is correct, you may want to consider hiring a professional translation company, such as Pollion.
Related Post: AI Translators & Their Future in Professional Translation Work
Creating a Multilingual LinkedIn Profile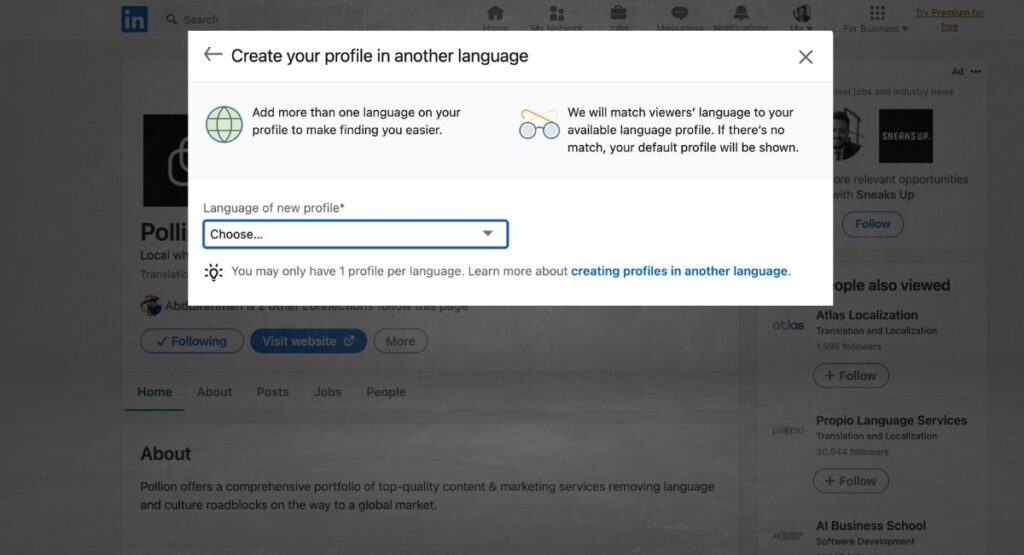 Here are the steps you need to take to create a multilingual LinkedIn profile. It's easier and faster than you think!
1. Log in to your LinkedIn profile.
2. Click on the "Me" icon at the top of your LinkedIn profile's homepage.
3. Click on "View Profile."
4. Click the "Edit" icon that's next to the "profile language" on the upper right side (the icon looks like a pencil).
5. Click on the "+ Add language" next to your existing language on the "Profile language settings" pop-up window.
6. Choose a language from the dropdown list. When you're done, click "Create profile" to save your changes.
7. Now, localize your first and last names (only if necessary) and translate your professional headline.
8. Carefully edit your new profile, ensuring that all parts of your profile are grammatically correct and localized. The most important sections to consider are the "Summary," "job titles and descriptions," and "Advice for Contacting." Be sure to save the changes you've made in each section.
And now you're done! That's all there is to creating a multilingual LinkedIn profile.
10 Essential Tips for a Powerful Multilingual LinkedIn Profile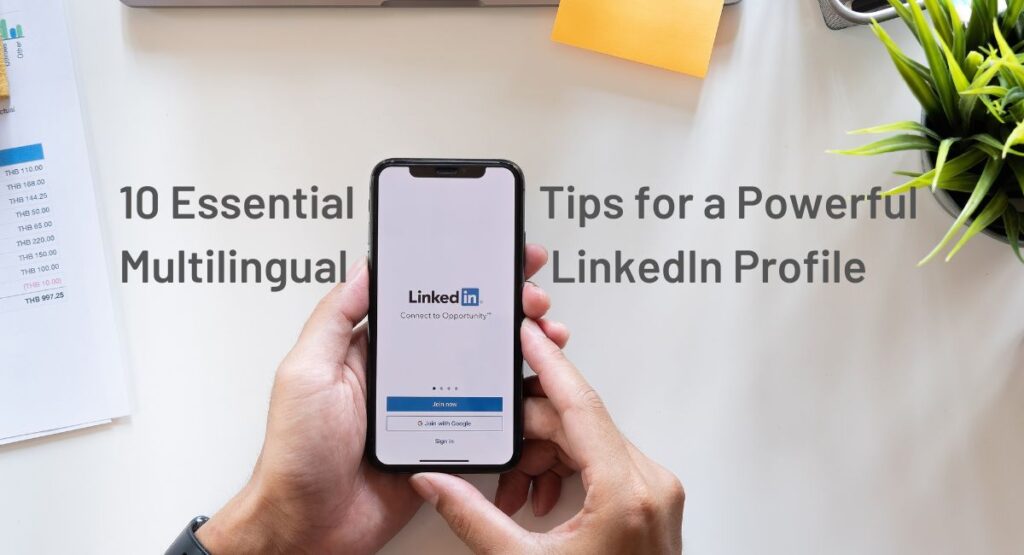 1: Make each language profile consistent: ensure that the essential information in your profile remains the same across different languages. In addition, be sure that your profile is localized for the target market(s) you wish to reach.
2: Show your language proficiency: emphasize your language skills in your profile. However, ensure that all parts of your profile are grammatically correct to show your language skills to their best.
3: Multilingual headline: craft a powerful, multilingual headline to grab attention.
4: Translate your about section: this section should reflect your professional story in each language and be localized to the target market(s) you want to reach.
5: Translate work experience: ensure your work experience is translated accurately into the language(s) you've chosen.
6: Include any language certifications: show proof of your language proficiency with the language certifications you've earned through academia and your work experience.
7: use relevant keywords: this helps you appear in the searches of people who speak different languages. Choose the keywords that match your position and job title.
8: Participate in groups and discussions: show your engagement in multilingual environments. You can do this by participating in groups and discussions pertinent to your job. It's also possible to create posts to show your language proficiency.
9: Encourage multilingual recommendations: ask colleagues who speak other languages to give you recommendations.
10: Regularly update all profiles: keep each of your language profiles up to date.
Conclusion
A well-crafted multilingual profile is essential to reaching out to others in your industry and creating a connection with your target market. When using the right keywords in your profile, it's possible to increase the visibility of your multilingual LinkedIn profile through Google searches. It's also easier for your clients, other business professionals, and partners to find your profile in multiple languages.
With a multilingual LinkedIn profile, you gain more credibility within your industry and with potential customers in your target market. It also allows you to demonstrate your language skills by adding another language to your profile.
These benefits bring more attention and traffic to your multilingual LinkedIn profile, enhancing your career.