Taking your business to the next level and reaching new global markets is a huge step. It's an exciting time! During this breakout phase, you hire a Language Service Provider to reach new target audiences worldwide. So far, you've seen much success, but over time, you may notice that your outreach to new audiences is no longer effective. What's the problem? The problem could be with your LSP.
Language Service Providers are essential for businesses wanting to reach global markets. They help companies with a wide range of professional projects and guarantee high-quality standards in their work. An LSP's team usually includes highly educated individuals who are native speakers. They understand the language and cultural nuances of their specific languages.
When your business works with a suitable LSP, you'll find a partner who helps you successfully reach new markets worldwide, scaling your business to new heights.
However successful your relationship is with an LSP, it's vital to recognize when the relationship is no longer serving its purpose. But what are the signs your LSP is no longer beneficial to your company?
Understanding LSPs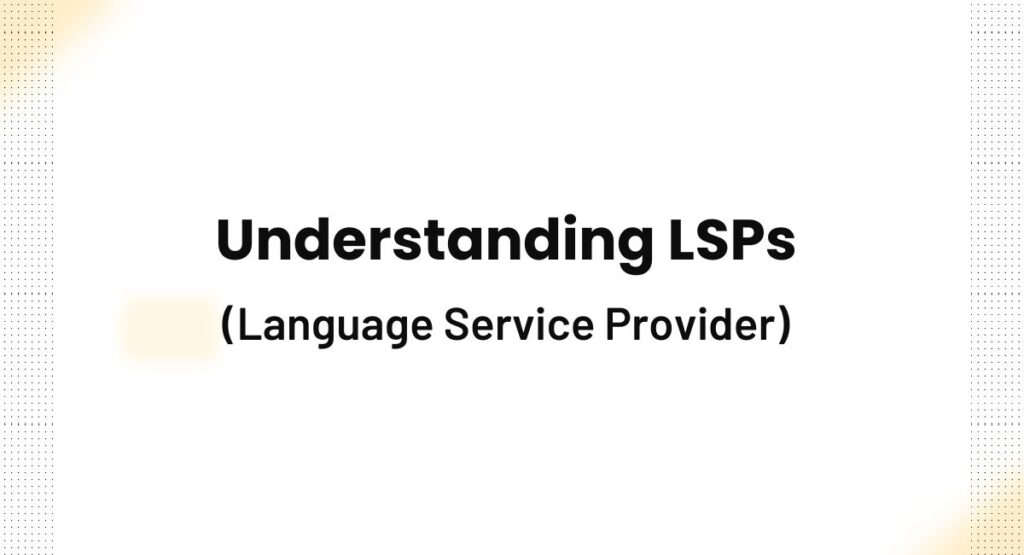 An LSP (Language Service Provider) is an agency or freelancer hired to provide your business with language services. They may offer services in several languages along with different language services. Most LSPs provide specialized services in certain areas, such as translation, localization, copywriting, etc. However, each LSP is unique and offers different services and specializations.
1. What is a Language Service Provider?
An LSP is an agency or individual (such as a freelancer) that offers language services. It's important to understand that not all Language Service Providers provide the same services. Some smaller agencies may offer services in a few languages, while a larger LSP may offer services across a wide range of languages. Moreover, each LSP usually specializes in specific tasks and services. Yet, each one should provide quality assurance guarantees with their work.
Language Service Providers may offer some of the following services:
Transcription
SEO Management
Language training
Interpretation services
Use the latest tech, such as CAT tools blended with AI & human translators
Translations
Localization
Subtitling & Voice Over
And more
2. The Advantages of working with an LSP
Working with a top-quality LSP can have many advantages, including the following:
Streamlined processes: A professional LSP has developed streamlined processes to ensure their clients' projects are done accurately and on schedule. Streamlined processes ensure that the translation work is also high-quality. Finally, LSPs using streamlined processes ensure their costs are budget-friendly for their clients.
Access to expertise & specialized services: Businesses working with a professional Language Service Provider also gain access to language expertise and specialized services. The LSP's team includes several native speakers who know the cultural subtleties of each language they work with. In addition, professional LSPs also offer specialized services that fit their client's needs, such as:
International SEO management
Transcreation
Linguistic asset development
And more
Scalability & flexibility to handle projects of various sizes: A professional LSP can also take on multiple types of projects and those of different sizes. A business can then reach a broader audience across several markets and do so with various methods (content such as video, websites, brochures, and more).
Enhanced brand consistency across multiple languages and regions: A professional Language Service Provider also ensures a company's brand consistency is maintained across multiple languages and regions. What does this mean? A client's brand and message are coherent and compatible across their chosen target audiences and their languages. Consistent branding is essential for businesses, whether reaching out to one target audience or several across different languages.
3. How to Choose a Language Service Provider
Factors to consider: expertise in your industry, technological capabilities, reputation, feedback from other clients, etc. Look for an LSP that has comprehensive knowledge of your industry. The Language Service Provider should also use the latest translation technology and have an excellent reputation for quality work.
The significance of cultural understanding and the importance of native speakers: your business also needs to search for a professional Language Service Provider with an extensive understanding of the target audience's culture. Without this deep cultural knowledge, an LSP cannot understand the necessary cultural nuances and could cause misunderstandings, branding issues, and more. It's essential to seek out an LSP with a team of native speakers; they should have a native speaker onboard who can effectively translate and localize your content for the desired target audience.
Potential red flags (warning signs) in the LSP selection process: when your business searches for an LSP, it's crucial to avoid choosing the wrong language partner for your project(s). Some potential red flags to watch for include:
The LSP does not offer a native speaker in the language(s)/market(s) you need
The agency/individual doesn't use the same workflow as your company (for instance, agile, continuous, etc.)
The LSP is not able to handle the volume of work you have for them
The Language Service Provider does not offer quality assurance
The LSP is not able to work with the file formats and programs your business uses
The Language Service Provider is not able to meet your timeline/deadline
The right LSP can meet your most essential requirements without fail. There should not be any significant gaps between the services you need and the ones the Language Service Provider offers. In addition, their quotes should be a good fit for your budget.
If there are too many red flags, it's best to move on to another LSP that's a better fit for your project requirements.
Related Article : Understanding the Factors That Effect the Cost of Translation Services
Recognizing When It's Time for Change
3 Signs It's Time to Break Up with Your 3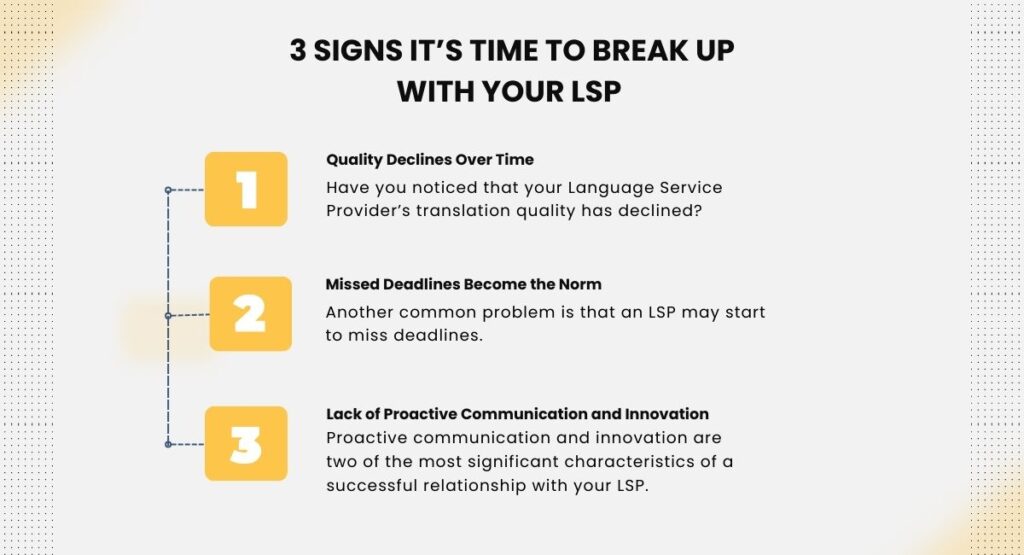 Quality Declines Over Time
Have you noticed that your Language Service Provider's translation quality has declined? Lack of quality in an LSP's translation can hurt your company's branding and cause a loss of customers. There are various types of translation errors you may notice over time, including:
Grammar and syntax
Idioms are not translated well or correctly into the target language
Punctuation is incorrect
Cultural nuances are not considered in the LSP's translations
And more
Missed Deadlines Become the Norm
Another common problem is that an LSP may start to miss deadlines. At first, this may not be a serious issue; however, missing deadlines can become the norm over time.
Missed deadlines can mean missed opportunities, loss of revenue, and more for your business.
Lack of Proactive Communication and Innovation
Proactive communication and innovation are two of the most significant characteristics of a successful relationship with your LSP.
Have you noticed that the agency's communication has fallen off?
Do they alert you to problems that have appeared during a project?
Does the LSP make excuses for missing deadlines or lack of quality?
If you answered yes to any of these questions, it means your Language Service Provider cannot meet your company's translation requirements. When they don't communicate with you regularly, alert you to issues, and more, the LSP may be struggling to keep up with volume, quality, and more.
In addition, if your Language Service Provider can no longer develop new ideas, it's time to reconsider working with this particular agency or individual.
Conclusion
When your business works with an LSP, it's imperative to monitor the ongoing performance and suitability of your Language Service Provider. Otherwise, you could find that your LSP is costing your company's reputation and wasting its money on poor translation services.
If the quality of your LSP's work seems to be slipping, it's best to address these issues as soon as possible. Be proactive in addressing any problems or concerns and ensure that your LSP partnership remains beneficial to your business.
Noticing several of the warning signs in this article may indicate that it's time to seek a new Language Service Provider who can meet your company's needs.